More help arrives for weary Qld fire crews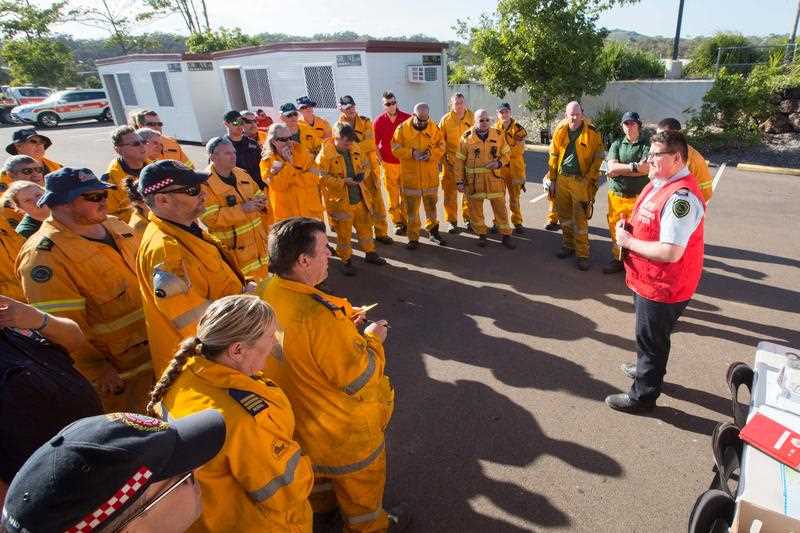 A fresh team of firefighters from Brisbane and surrounding areas arrive to relieve exhausted local firefighters in Peregian Beach (AAP Image/Rob Maccoll)
Queensland's premier has jetted back to her fire-ravaged state with a warning conditions are going to get worse into next week.
Annastacia Palaszczuk urged everyone in the state to listen out for emergency authorities, especially over the weekend.
She returned early from an overseas mission on Thursday, when she visited Peregian where thousands were force to evacuate on Monday night.
Conditions have eased but authorities are still scrambling in high fire-danger conditions to contain about 70 blazes before temperatures spike again.
With 68 fires still active across the state I received a briefing at Emergency Services headquarters today. This has been a massive effort for our emergency teams and all of Queensland is grateful. pic.twitter.com/Sc2h9KRDau

— Annastacia Palaszczuk (@AnnastaciaMP) September 12, 2019

The premier said winds are expected to pick up over the weekend, and from Monday to Wednesday temperatures will likely be on average between five and eight degrees higher than usual.
"Now what that means is very dry conditions, roughly up to half of the state," she warned.
Hundreds of people who were forced flee across southern and southeast Queensland have returned to homes ringed by blackened bush and reeking of smoke.
This wasn't just another day at the office for our crews on the Sunshine Coast. Sometimes words can't describe the things we see on the job. Monday night was one of those times. #bushfire #peregian pic.twitter.com/chGMcGM2sO

— Queensland Police (@QldPolice) September 11, 2019

They include the residents affected by the Peregian blaze on the Sunshine Coast, which police say was deliberately lit by a teenage boy and girl.
Police allege the teens lit the fire in bushland on Monday afternoon, sparking a three-day emergency that threatened entire communities and destroyed one home.
A 14-year-old Peregian Springs boy and a 15-year-old Coolum Beach girl were charged with endangering particular property by fire.
Police Commissioner Katarina Carroll said a task force set up to determine whether any of the fires were deliberately lit is looking closely at 22 separate blazes.
"Thirteen have been obviously as a result of either a careless, deliberate, sometimes just reckless and accidental fires that have started," she said.
"We have charged two adults, and thirteen juveniles have been dealt with."
Ms Carroll has urged the community to be calm, saying only the police really know what caused each of those fires.
Parents have been urged to talk to their children about the grave consequences of playing with fire.
Two fronts are still active on the Sarabah fire in the Gold Coast hinterland, after it destroyed homes and the heritage-listed Binna Burra lodge.
Went for a drive up to Binna Burra yesterday, crazy to see up close the effect from the fire. pic.twitter.com/Nwx2dZWYQT

— Lion Goldsworthy (@lion_golds) September 11, 2019

Another major fire at Mount Archer in Rockhampton is also not fully contained.
© AAP 2019